"Poland will be able to say that it is a leading 5G innovator. It is going to be at the forefront of technological changes," says Martin Mellor, Country Manager, Ericsson Polska, in an interview conducted by Anna Zagórna
Anna Zagórna: When was the idea to produce 5G network components in Poland born?
Martin Mellor*: First of all, I would like to start with the success of research and development in Poland. Ericsson has been collaborating with Polish engineers in the software area for 25 years. During that period we have built trust and seen that Polish engineers are very skillful and talented sharing the same values.
I am glad to hear that.
The R&D team in Poland is the second largest research and development center after Sweden, so it is very important.
How big is it?
2,000 engineers, out of which 1,000 work in Kraków and 1,000 are employed in Łódź, where radio software is developed. They are software engineers. Our main commercial office is located in Warsaw. Having that experience and knowing that the 5G network is going to expand in Europe, Ericsson was looking for a production site that would be close to our customers supporting an agile supply chain. We want to invest in Europe and we want to have production facilities that could satisfy a growing demand of customers in 5G technology.
5G is essentially a programmable platform which can be used by industries and telecom operators in many different ways
Ericsson already has a manufacturing facility in Tallinn, Estonia, but with the rise in demand, we have to increase our production capacity and therefore we have decided to expand the production with the contract manufacturer in Tczew. 4G and 5G equipment for Europe will be produced both in Tallinn and Tczew. We have been successful in R&D in Poland and having a production facility in Poland compliments this R&D. We can see a strong synergy between R&D and production. Of course, it is a great news for Poland, because now Poland will be able to develop software, produce equipment and supply services for 5G networks.
Ericsson and Flex Ltd. had an existing partnership regarding production of 2G, 3G and transport networks to connect the radios to the core network. We had some equipment manufactured there but the production volume was relatively low. Now, it is going to be much larger scale. We expect our European facilities to reach full production capacity in Q1 2020.
What about 6G? Is it only a rumor or are there really some works underway?
Let us start with 5G launches. The United States and South Korea launched 5G together on the same day. We have signed agreements and we have been cooperating with all operators in USA and South Korea gaining valuable insights into live 5G networks. Maybe some 6G research is being done but the results will be seen only in the future. We started our 5G research many years ago.
Maybe we will know that in the next ten years?
Now we should stay focused on the 5G network, which will have to be virtualized, and that means we will need much more software.
If you have flexibility of the network, it is possible to create a programmable platform. That's what 5G is. It is essentially a programmable platform which can be used by industries and telecom operators in many different ways.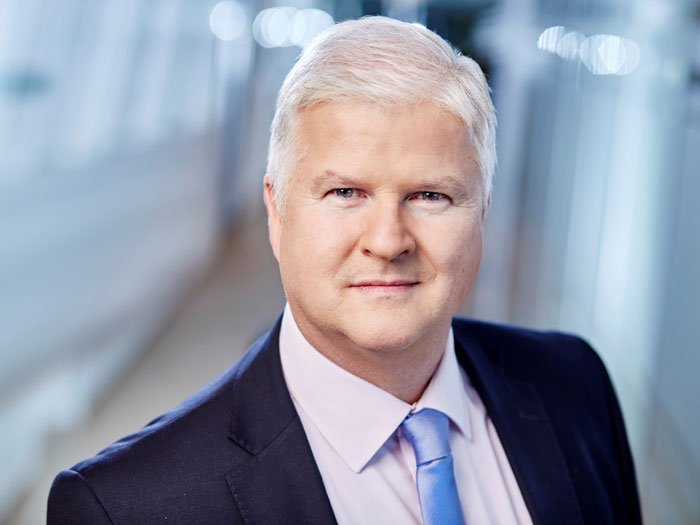 So perhaps the change in the future will not be as big as the one we are experiencing right now with 5G, because today 5G means new radios and new frequencies. The existing radios will be upgraded to 5G standards. The main idea is to connect all those devices together and make 4G and 5G compatible to provide best performance and reach.
And there is a core network which needs to be upgraded to support 5G as well. So 5G is an end-to-end technology. It is not limited to radios. The scope of changes connected with virtualization and programmability of this technology will allow for greater flexibility in the future.
Does 5G require more security measures?
Well, first of all, 5G standards have improved security if compared to 4G. Lessons have been learnt, improvements have been made, and now we can enjoy securer standards with 5G.
But the difference between 4G and 5G consists in the fact that the 4G technology was intended for consumers, for us to watch videos on our mobile devices, to use social media etc., while the 5G technology is addressed to industries which can use it in a completely different way. And this will be possible, because 5G is hallmarked by high bandwidth and low latency. In the future, all industries will be connected to the 5G network. In such a network it will need to be secure for companies to send blueprints and manage intellectual property rights.
There have been hundreds of reports on the impact of radiation used for mobile networks and there has been no official study proving that any health problems result from mobile networks we have today
It is therefore important to note that because 5G will be beneficial for industries, IPR needs to be protected and cybersecurity needs to be looked at from different perspective.
After the agreement was signed**, you gave a speech and said that you wanted Poland to be not only the leader in production of 5G equipment, but also the leader in 5G security.
That is why we have signed the agreement. Together with the Polish government we want to be at the forefront of technological changes and share Ericsson's global knowledge on cybersecurity and secure operations in the networks in Poland. If we achieve that goal, Poland's 5G network will be secure. There is no other European country with both production facilities and R&D centers. My ambition is to make Poland one of the leading 5G innovators in Europe and to provide Poland with the secure 5G network.
Many people all over the world are afraid of 5G and of what influence it may have on their bodies and minds…
All health limits are set by the World Health Organization and our products comply to these limits. There have been hundreds of reports on the impact of radiation used for mobile networks and there has been no official study proving that any health problems result from mobile networks we have today. 5G uses radiation for communication just like 4G. 5G does have different frequencies but these have all been in operation for a long time for other purposes.
What is the difference between 5G and 4G radiation?
The way the radiation is transmitted is different. With 4G, the radiation is transmitted in all directions but in 5G we have something called "beamforming and beamshaping" and this directs the radiation that is needed to the device. So you can have a lower radiation level and achieve higher throughput.
More work is needed to educate people in these matters.
Przeczytaj polską wersję tego tekstu TUTAJ
---
*Martin Mellor graduated from the University of Nottingham with a major in theoretical and applied physics. He started his career with hardware and then software development. In 2006 he joined Ericsson, where he was responsible for coordinating the sales of broadband access systems and for supporting the sales of IP solutions for customers from Western and Central Europe. He was also the Central European CTO.
He is interested in cricket and football. He was involved in the works on the project of a football stadium integrated with the Internet, the so called Connected Venue, which Ericsson has carried out in collaboration with Legia Warszawa.
---
**The interview took place during the CYBERSEC CEE forum in Katowice; sztucznainteligencja.org.pl was one of the media patrons of the event. On the first day of the congress Cisco, Ericsson and Nokia signed a cybersecurity agreement with the Ministry of Digital Affairs. In the "5G Area" at CYBERSEC EXPO fairs, organized in parallel with the event, Ericsson presented, for the very first time, the components produced by the facility in Tczew for the new generation network "5G made in Poland".