A Finnish town with 27,000 inhabitants is the only place in Europe where people grow up among robots. They learn about them from nursery to adulthood
"I will gladly answer all your questions about Riihimäki. But please remember I use artificial intelligence and I am still learning. How can I help you?"
Although she has no idea about emotions, Kati is very kind. At the website of the small Finnish town, she introduces herself as a digital trainee in Riihimäki. It is a town in southern Finland located 70 kilometers north of Helsinki.
Kati does not speak English yet, but she promises to learn it soon, because she is a very smart chatbot that works in a very unusual place. Riihimäki, with its 27,000 inhabitants, is the only place in Europe where people grow up among robots and learn about them from nursery to adulthood.
"Soon this knowledge will be useful for us in practice. I am glad that we have such a modern approach to education," admits Viivi Pirinen, a 15 year-old fair-haired girl and tells us which hotel in the town is the best place to stay in.
More than just Santa Claus
Although in the eyes of the average Pole Finland is mainly snow, skiing, Nokia, Santa Claus and the northern lights, globally the country has been famous for its best educational system, which is willingly copied by other educational powers.
In Finland, teaching as a profession is highly valued. Teacher's salary is slightly above the Finnish average. Many of the teachers feel that they have time for personal professional development. Teacher training is a major subject in Finnish universities, it is high quality education and difficult to access into.
Compared to a traditionally known teacher and teaching methods, Finnish teachers mainly have a coaching approach to teach. In addition, teaching transcends traditional subject boundaries, and occasionally pupils and teachers explore different kind of phenomena together. For example water and its many forms when the seasons change. Pupils are encouraged to take responsibility of their own learning and developing their learning skills, already from early stages of education.
The first web browser was also created by the Finns. Erwise, developed by three Finnish students in 1994, did not find any sponsors; soon after Internet Explorer appeared and dominated the market
Holidays are longer than in other countries and there is no strict curriculum. For years Finland has been one of the countries with best results in OECD's international PISA tests, the purpose of which is to determine how competent 15-year-olds are.
Having that mind, it is not surprising that this country was the first in the world to launch artificial intelligence courses for everyone. Finland has long been a breeding ground for unconventional ideas, bold experiments and innovations. Heart rate monitors, text messages , Linux operating system, Angry Birds: they all came from Finland. The first web browser was also created by the Finns. Unfortunately, Erwise, developed by three Finnish students in 1994, did not find any sponsors; soon after Internet Explorer appeared and dominated the market.
Knowledge in packages
As from next year, the Finnish education system will outstand even more. Teaching packages based on tasks implemented, for example, during a week or a day will be introduced to elementary and secondary schools. Teenage students will not participate in typical history or biology lessons. They will look at each problem from several perspectives and test the acquired skills in practice.
"With that approach, teaching will be more practical and functional. The main focus is to encourage pupils and students to set their own goals during learning, acting and peer review. The change will have the most radical impact on vocational training, because competence and knowledge of the students will be tested, for example, in their workplace, and not in classes or during exams," explains Esa Santakallio, Director of Education in Riihimäki.
A very long story
There has always been a lot going on around Häme. People have lived here since the early Stone Age. Ancient Häme fortresses were defended against crusaders and protected the trade route called Ox Road (Hämeen Härkätie).
New settlements flourished under Swedish rule and with the development of agriculture, sawmills and mines came prosperity. The paper industry and the production of fishing nets thrived during the domination of Russia, but the birth of free Finland in 1917 was preceded by great hunger and unrest. The completion of the Helsinki-Hämeenlinna railway line and the opening of the Riihimäki-Sankt Petersburg line in the second half of the 19th century had an enormous impact on the development of the city. At first it was just a railway station in the remote area of Lake Haus, but by 1919 Riihimäki became an important community with its own council and the right to appoint officials.
Today, getting there is easy. It takes about 45 minutes to get there by car or train from the Helsinki metropolitan area; the town is located close to the junction of the main highways and railway lines of Finland. There are seven primary schools with 3,100 pupils and three secondary schools.
Sataa lunta, repeat
If you are lucky, you can see the aurora, although at this latitude it is rather uncommon. A car trip from Riihimäki to Rovaniemi where Santa Claus lives takes 10 hours during which you need to cover the distance of 770 kilometers. Prices are steep: a one-day stay in a modest hotel is about PLN 350. In winter there is less snow than you would expect. Climate warming.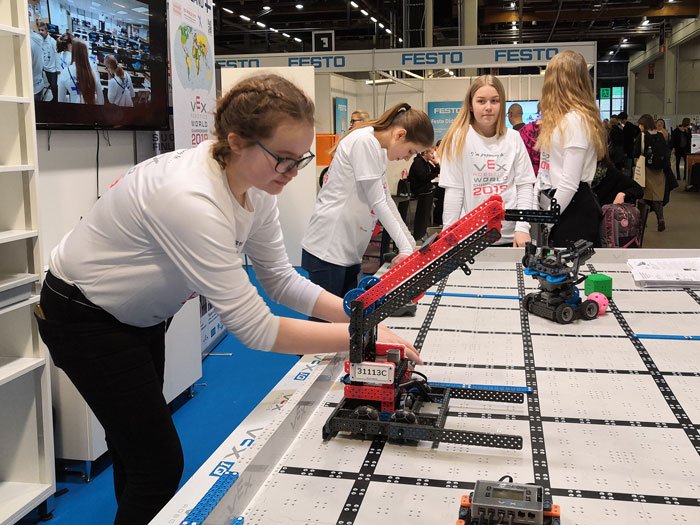 "The temperature in Riihimäki can drop to minus 20 degrees. Or even more. In summer it ranges from plus 15 to plus 30 degrees," says Esa Santakallio, director of the education department in Riihimäki, who is also a teacher and an official. We have found a common topic: Esa likes Poland and skiing very much; he has recently skied in Białka Tatrzańska.
"Sataa lunta, repeat. It means: 'It's snowing'. Unfortunately every year we have less and less of it. Winter comes later and the average annual temperature has gone up. Statistically speaking, last year in March we had only about 20-30 cm of snow, although sometimes the snow is half a meter deep," he adds.
From programming to philosophy
As from autumn 2019, every child and teenager in Riihimäki – from kindergarten to primary and secondary school – will learn robotics.
In Finland, kindergarten is the most preferred form of daycare for children older than one year. In practice, about half of the children aged 1 through 5 benefit from daycare services provided by the municipal authorities.
"People still have a rather narrow view of robotics. Most of them see robotics education only as programming of ready-to-use robots or as SI applications. For us in Riihimäki, programming is a small but significant part of robotics," says Pia Engström, Development Manager from Riihimäki, who works with the robotics projects and developing the robotics campus.
In kindergartens, robotics education understood in that way consists primarily in playing games and combining simple elements into the simplest machines.
"Robotics teaches problem solving, teamwork, social skills and creativity," says Eero Isotalo, an eight-year-old from Harjunrinne School in Riihimäki, with a conviction worthy of a minister.
In the elementary school, students first have to complete basic courses in robotics and learn how to use robots in various fields. Then come advanced robotics and programming which are included in the mathematics and physics classes.
In high school students learn about the Internet of Things, the basics of artificial intelligence, the use of robots in design and contemporary art, even elements of robotics philosophy.
Say hello to learning about robots – when you're still in diapers.
This is how a young Riihimäki resident builds their educational biography, step-by-step, in which the next stages of initiation and competence are linked with an increasingly advanced knowledge of thinking machines.
Aaro Linnalaakso, a local reporter covering education and also a robotics teacher in Riihimäki says that the robotics education project in town has started three years ago.
"We organized the first robotics clubs all the way back in 2014 and our teachers noticed that thanks to the robotics, the children could be taught many skills which would be useful in the future. Apart from that, they also loved to solve problems together, designing and building robots," says Aaro.
The author of the brand new teaching program in Riihimäki is the ski aficionado Esa Santakallio. They say he is the father of the robotics education. He introduced robotics courses at schools, kindergartens, and even to nurseries. He also designed a program for schools.
The lessons take part in every classroom as part of the project, from elementary to high school graduate level but children get familiar with robotics when they're still in diapers. As a result, when they go to school, they know quite a bit about the machines and teamwork. The city has received funding from the European Union.
A good life within walking distance
Riihimäki is known not only for teaching about robotics. It also has a theater with a professional troupe, numerous parks and recreational facilities, a swimming hall, an open space pool, a sports center, an ice rink, a hall with tennis courts, grass football fields, 15 kilometers of lighted cross-country skiing trails and jogging paths. In the center, all places for recreation and services are a short walking distance away. If you borrow a bicycle, you will quickly find your way to the Finnish Glass Museum and the Hunting Museum of Finland.
Elementary education entails a minimum of 250 hours of mandatory robotics lessons. There are also optional courses: 225 hours of extracurricular activities, even more as part of clubs and special-interest groups
The public administration employs the biggest number of locals, numerous others find employment in healthcare, social care, production, trade and the building sector. Out of 126 hectares of the town space, five is taken up by the Vantaanjoki river – a trout habitat and a paradise for anglers.
In the summer, a few concerts take place in the city center, Granit Square – grand place named in honor of Ragnar Granit, a neurophysiologist and a philosopher who was born in Riihimäki. The city is an entrepreneurship, culture, discovery and technology hub. A specialized education in robotics and drama has been included in the Riihimäki development strategy all the way to the year 2030.
Engineering notebooks
The local robotics program attracts national and foreign delegations, half of the world would like to drop by for workshops. The first thesis in Riihimäki, centering on robotics, will be completed this year.
Today, over thirty percent of the teachers of various subjects in elementary schools and ten percent of high school teachers have the competencies to conduct robotics lessons. Elementary education entails a minimum of 250 hours of mandatory robotics lessons. It is done as part of the basics at first. Later, the education is done as part of a package, e.g. mathematics, physics, art, etc. There are also optional courses: 225 hours of extracurricular activities, even more as part of clubs and special-interest groups.
Robotics education at the Riihimäki schools is about gaining skills on various construction and programming platforms. They cover not only teamwork, problem-solving, managing projects and teaching critical thinking, but also honing the information searching skills, as well as communication skills. Students are also taught how to set their goals, documenting, modeling and planning, evaluating their work. In kindergartens, it is mainly learning through play.
"With small children, robotics is learned by playing. Their education mainly revolves around games, building, cooperation and getting familiar with robots present in their lives, as well as their construction. Older students are keen learners, they write down notes in special workbooks. These engineering workbooks document their progress, their every step forward in robotics, solidifying the knowledge and presenting it to others," Aaro explains to me.
Engineering notebooks are developed documents in English with dozens of pages filled with photographs, drawings and descriptions of programming.
No passion needed
By getting familiar with the robots, a child discovers the joy of uncovering brand new worlds.
"Cooperation, discernment, thinking, memorizing and learning skills get developed. The children who are not particularly motivated to learn in the classroom, get curious and achieve success in robotics," emphasizes Aaro.
What is interesting, is that the students do not have to be technologically savvy to acquire knowledge about robotics with ease. A 17-year-old student, Eemil Lähteenmäki, tells me that no other school subject offers such a wide range of useful competences, presented in such a multifaceted manner.
"It doesn't matter where I choose to continue my education, or work, because the skills linked to robotics that I have gained here are really versatile," he notes.
The Riihimäki students take part in the national and international conferences, win prizes at various robotics competitions around the world.
The Finnish Robot Valley
Outi Keski-Äijö, who works with the Finnish AI Business program, is confident that the robots and artificial intelligence will soon be an integral part of our lives.
"This is why it's important for young people to understand how it all works, what are the pros and cons," she says.
That's why the two projects in the city are to serve as a cornerstone for the Riihimäki Robotics campus. The region wants to be known as the ''Finnish Robotics Valley.'' The campus is developed via the project Robo Riksu, funded by the European Regional Development Fund and Robo Learn project is funded by European Social Fund. It will conclude its activities in 2020. Riihimäki, the Hyria Education Ltd., and the HAMK University of Applied Sciences – with over seven thousand students – will take part.
The robotics development center, a scientific community and a business incubator focused on the production technology, services and social care will be built here. HAMK UAS has decided that its Riihimäki branch will focus on teaching robotics to companies and university science departments. It already offers the continuing education to those who work.
"We wait for European and global partners. Let's create new projects together!", entices Esa Santakallio with a smile.
Before the snow falls
"When will the snow start falling in Riihimäki?" I ask the smart municipal assistant.
"You wrote to me again! That's nice!" replies Kati.
Yes, she is nice and polite, just like all the Finns.
But she has got to learn a lot from people.