For us, it's not only the matter of technical but also mental innovations. It's about a new approach. This is our motto. Justyna Orłowska and Antoni Rytel, GovTech Polska, in conversation with Maciej Chojnowski
Maciej Chojnowski: The final version of the "Policy on Artificial Intelligence Development in Poland" is expected to be published within the next few days. What will be the role of GovTech Polska in the implementation of the policy?
Justyna Orłowska*: Being an interdepartmental team, we will assume the role of the coordinator. Not only do we have our own unit in the Chancellery of the Prime Minister but also a representative in each of the ministries. It gives us a broad picture of what's happening.
Our task is also to build bridges between the public and the private sector. You can say we are an interpreter for two negotiating parties talking about the same thing in two different languages. Our job is to make sure they come to an understanding of their needs and intentions.
As far as artificial intelligence is concerned, these two elements are key to the success. On the one hand, having access to public sector data means an enormous potential for training artificial intelligence algorithms. That wouldn't be possible without such resources. On the other hand, innovative ideas about how to use that potential are developed by the private sector.
Of course, we also remember about the science sector. We want to build bridges together with the academic community.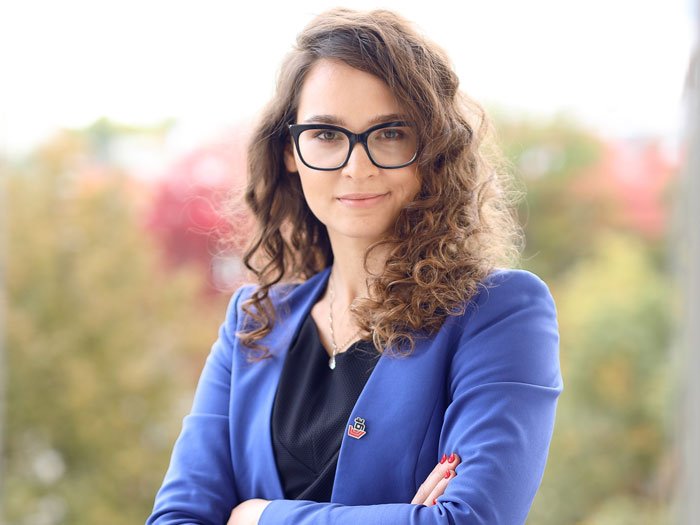 How can the state influence development of AI?
J.O.: Having access to large amounts of data is crucial. But we mustn't forget that the use of artificial intelligence also means processes which are repeatable and scalable for every Polish commune or poviat, so, in fact, for the whole country.
To illustrate that with an example, let's take a look at the National Revenue Administration, which owns modern trucks fitted with X-ray scanners. Pictures they take are used to establish whether goods locked in containers are transported legally and whether they should or should not be subject to excise duty. Until recently, the pictures were analyzed entirely by a human. Now officers are assisted by AI.
Having access to public sector data means an enormous potential for training artificial intelligence algorithms

Justyna Orłowska
I've provided this example because that was one of our first challenges we focused on in our GovTech Polska design contests. A start-up from Białystok solved that problem and supplied a prototype of a tool which is already used by a terminal in Gdańsk and is being implemented at our eastern borders.
Antoni Rytel**: In this particular case, the use of AI is important because there are several hundred million containers, trains or trucks X-rayed every year. It's a huge challenge!
When it comes to the role of the state in developing artificial intelligence two main areas can be identified. Firstly, the state makes efforts to stimulate the market and to attract innovators. Actions include grant programs, more friendly legislation as well as promotion and incentives to use AI.
What is equally important is that the administration must change and it wants to change. There is a great number of processes that could be potentially automated. If that happens, public services will be provided faster and in a more convenient way.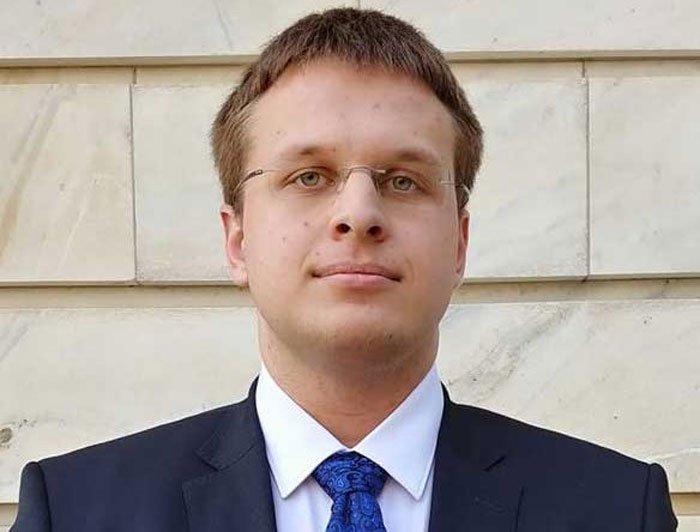 J.O.: In GovTech we want to be a catalyst for change. We are all citizens of our country. We just work in different places. But we don't live in entirely different worlds.
Why did a single event, the GovTech Polska design contest, transformed within three years into a government undertaking of strategic importance for AI development in Poland?
J.O.: It all started back in the Ministry of Finance. Our superior, Mateusz Morawiecki, who at the time was the Deputy Prime Minister, Minister of Development and Finance, wanted to tighten control over the tax system. But this task cannot be done if you have no data. And even if you do, you also need experts knowing how to analyze them.
And that was the challenge: how to engage talented people capable of analyzing big data and creating algorithms that would automate the process? Prime Minister Morawiecki wanted to involve start-ups and creative programmers in tightening control over the tax system. We proposed to organize a hackathon. Although the public sector had never participated in any such event, we knew that it was nothing unusual for the private sector to which it brought actual benefits. Prime Minister Morawiecki showed keen interest in the idea.
During the hackathon someone came up with a solution allowing to target scammers at auction websites. The solution has been used to this day.
How did it work exactly?
J.O.: One of the practices was to sell brand new mobiles as second-hand phones, which allowed retailers to pay smaller VAT. The programmers' task was to detect such irregularities. Eventually, they managed to create a tool to screen the auctions. As a result, after 10 months, the number of such malpractices dropped down by 80 percent.
It turned out that we were the first tax service in the world to have organized a hackathon. What's more, that was the biggest hackathon in Europe and second biggest in the world.
Is that the whole story?
J.O.: No. In December 2017 Mateusz Morawiecki became the Prime Minister and invited us to continue the project on a larger scale. It was then when the term "GovTech" was officially used for the first time, although it had appeared earlier in our conversations. We knew that in Singapore or in the UK innovations for the public sector were implemented from the central level. But back then we operated within the structure of only one ministry. However, in April 2018 it was decided to extend our activity. When we became an interdepartmental team, we began to think about the first GovTech product.
A.R.: To be able to support innovation in all sectors, you have to start from yourself. This is why we decided to focus our efforts on public procurement. This market is worth PLN 200 billion a year, making it one of the biggest markets in Poland. And the bigger the market, the more opportunities for innovation, development and positive changes.
But when we announced that we wanted to simplify public procurement procedures to make them more friendly to various innovators and start-ups, we heard: "Prepare a draft of a relevant act – you're now part of the Chancellery of the Prime Minister". However, we preferred to fit in with what we already had. We managed to make use of a procedure that had been developed for architects and interior designers.
Why did you decide to choose this particular one?
A.R.: Because the act stated that the contest mode was used specifically for architectural projects. We simply approached the same issue from a different angle. And this is how we have come up with a procedure that is easy and open to everyone. Submitting your offer has never been so easy. You just need to sign it. There are no preconditions. The only requirement is to have clean criminal record, which results from legal regulations. The whole process is fully electronic. We have a design contest platform which helps small enterprises, start-ups and natural persons to respond to challenges of national importance.
Has that change translated into an increasing interest in public procurement?
A.R.: Today, on average, about 50 innovation entities participate in design contests. That's over 20 times more than in standard procurement procedures. It turns out that to attract a large number of entrepreneurs, all you have to do is to speak their language and to streamline the procedure.
This is our motivation for future actions, projects and contests. So far there's been over a dozen of them but we're not going to slacken the pace. Other countries have followed suit. That proves we're on the right track!
The administration must change and wants to change. There is a great number of processes that could be potentially automated. If that happens, public services will be provided faster and in a more convenient way.

Antoni Rytel
At the beginning you were inspired by foreign models, now you are an inspiration to others.
J.O.: That's true. The first inspirations laid the groundwork for future international agreements. For example, Scotland has its own unique program which focuses on design contests only. They call it "challenges". That's the term used at hackathons. We sure have spread our wings and are now running a comprehensive program, but everything started from identifying a need that spurred us to action.
The most important inspiration comes from the UK and is about an idea of centralizing our efforts. The most difficult part was to shift from one limited area to the interdepartmental environment. We've signed a cooperation contract with the Brits, who are interested in implementing our contest model.
Is there anyone else you collaborate with?
J.O.: We're part of a global govtech community. Europe was the area we were particularly interested in because of common regulations. During our cooperation with the UK we discovered that they always followed EU directives. Obviously, the way directives are implemented may vary from country to country but at least there's the common denominator.
Apart from the British, we also cooperate with GovTechs from Brazil, Spain or Latvia. The Lithuanians got very interested in our path and the Danes organized a contest which was almost a perfect copy of what we had done. We are drawing inspiration from one other. We are not competitors, as ultimately each of us operates on their own market. So it's perfectly fine if someone creates a certain style in their country; in the end everyone will want to have their own start-ups.
A.R.: The govtech community around the world is rather small, so we don't have to send letters to embassies asking them for organizing a meeting; we simply contact each other online. Such program are much more dynamic than one would ever think. And both the market and the potential are enormous! At the moment they are valued USD 400 billion globally.
Can mechanisms you have created be useful outside the public sector and come in handy for entrepreneurs?
J.O.: Definitely so. Big companies in Poland ask us if it is possible to submit their challenges on our contest platform as they are also interested in that model. Frankly speaking, the model is very popular among all big institutions.
The idea of the contests is to open up to young, agile teams that are not restricted by procedures and that can focus on their job. Smaller teams are more likely to create innovative solutions as employees of big corporations first need to ask their superiors for a permission to act unconventionally, which is time-consuming and often results in losing the competitive edge.
A.R.: Our goal is to have all the procedures simplified. If our solution works for such a big corporation as the state, it will also work on the business market. What's important, we want to share our practices with everyone. Since our operation is financed with public money, we want to provide as much value to the society as we can. Our standards are publicly available in Polish and in English. Rules of organizing hackathons has also been written down. So most of digital tools we have developed or are working on are available in an open model.
Let's talk about innovation implementation barriers. We've already mentioned public procurement. What are other obstacles as far as administration is concerned?
J.O.: The problems we have to face are no different from the ones that must be solved by big corporations. In both cases, before any commitment decision is made, you need various permits and authorizations. Each office follows its own internal rules that are not uniform because different things may prove more effective in different areas. On top of that, there are also specific procedures of state-owned companies, which are also beneficiaries of our program.
We can even say that offices are sometimes more agile than companies. Everything depends on a team. If people really want to achieve a certain goal, everything goes smoothly, irrespective of whether we're talking about a ministry or a company.
The use of artificial intelligence also means processes which are repeatable and scalable for every Polish commune or poviat, so, in fact, for the whole country

Justyna Orłowska
A.R.: One of the issues often raised during discussions about challenges for public administration is people or, to be more precise, bringing creativity to the public sector. Prime Minister Morawiecki has just announced the launch of the Young Leaders Program with the aim of attracting creative and active people that would have an idea of how to change the public sector. It doesn't mean that everyone working in the administration is slow and devoid of creativity. The idea is to be always capable of attracting innovation-oriented people, irrespective of the staff we have now.
J.O.: We've recently had a meeting with the winners of our Innovation Leaders contest. We've been thinking about how to convince Generation Z [Editor's note: people born in the second half of 1990s and right after 2000 now entering the labor market] to work in public administration agencies. You know, the public sector is not the first idea that comes to your mind when you are a young graduate.
However, people who have seen how our team works and know what it's like to act for the benefit of 38 million Poles are deeply interested in our projects and ready to share their passion with others.
Could you give an example of a cool project that would convince young people to join your cause?
J.O.: Polish Press Agency asked us to help it create a tool to counter fake news. That's how FakeHunter was born. It all started from verifying the news about the coronavirus; the tool is now also capable of analyzing finance information but soon it will be used for other topics too.
We're looking forward to new ideas. And it really doesn't matter if they will be implemented as a result of brainstorming at another hackathon or as a result of collaboration between our team and programmers from other entities. The most important thing is to constantly look for ideas with which we could solve problems in many different ways.
It is also vital to have more innovators in the public sector. And that is the purpose of our portal for innovation leaders and the interdepartmental Young Leaders Program.
In November we're also organizing GovTech Festival, an event to promote digitalization the government is responsible for.
A.R.: During the festival we will be presenting many of our projects. We hope that it will contribute to popularization of digitalization in the public sector. For us, it's not only the matter of technical but also mental innovations. It's about a new approach. This is our motto. Innovations can be implemented in every domain.
---
*Justyna Orłowska – Polish Prime Minister's High Representative for Government Technology. Leading expert in corporate finance and fund management. Having previously worked in consulting, in 2016 she became an advisor to the Minister of Economic Development. Responsible for management of the State's innovative projects portfolio, she spearheaded the MinFinTech programme as well as the creation of the Lektury.gov.pl portal. In 2017 appointed an Advisor to the Prime Minister on Innovation Policy and Finance. Since the Programme's establishment in April 2018, serving as Head of the GovTech Poland Programme – Poland's largest initiative aimed at bringing and implementing the innovation and digital revolution to the Public Sector. Appointed to Prime Minister's High Representative for Government Technology in March 2020.
**Antoni Rytel – economist and IT expert specializing in financial applications of artificial intelligence and in cybersecurity. He is a student and a Research Assistant at Stanford University, where he is working on NASA, Google and Hoover Institution projects. He has gained experience during his internships in Polish and foreign financial institutions as well as in the United States Congress as an alumnus of the TFLF program. He's a winner of various contests and competitions. He has been dealing with innovations in the public sector since 2017, when he won the Tax Leader contest and became one of the coordinators of the MinFinTech project in the Ministry of Finance. He is the Deputy Director of the GovTech Polska program in the Chancellery of the Prime Minister.
---
Przeczytaj polską wersję tego tekstu TUTAJ